We've already published a great list of 5 things we expect to see in 2017 but what about the things we'd like to see but don't expect ALL of them to happen?
Glad you asked because we've got you covered. Here are the things we want to see in 2017:
An exciting new nickname at Aldermaston
This is 100% TC's idea. Due to their location, AFC Aldermaston's club nickname is The Atomics with Aldermaston famous for the Atomic Weapons Establishment (AWE).
My co-editor is not so keen on that name though and keeps referring to Aldermaston as The Isotopes. Largely because we are both fans of The Simpsons but partly because he just thinks it sounds better.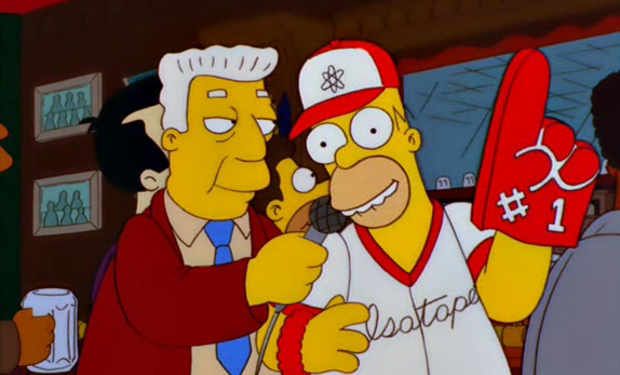 The Springfield Isotopes are of course the good guys whilst The Shelbyville Shelbyvillians are the bad team
So we are putting it out there, a possible nickname change to The Isotopes would make TC very happy indeed. Personally, I like The Atomics and think it's a fitting nickname. The Isotopes is pretty cool though.
Bracknell Town win Uhlsport Hellenic Premier Division
Had I written this at the start of the season it would have been a more generic any East Berks side to win the title.
Let's face facts. No East Berks side has ever won the title in the 63 year history of the Hellenic League so it's about time that this happened.
With that in mind, we'd have been happy with any of Ascot United, Binfield or Bracknell Town winning the league.
Realistically as we move into 2017 and of our three sides only the Robins are in with a shout after moving top of the pile on New Year's Eve.
Both Thatcham Town and Highworth Town are eight points behind and have played more games so in my mind at least the title race has gone from five teams to three.
We think Bracknell are favourites to win but both Thame United and Flackwell Heath are right up there so it's all to play for over the next three months.
We're going to need a bigger boot
Bracknell's Adam Cornell and TJ Bohane are second and third respectively in the golden boot race for the Premier Division.
Thame's Andrew Gledhill currently has 25 with Cornell on 22 and Bohane on 20 helped by him getting a hat-trick in his past two matches.
Binfield's Liam Ferdinand is an outside bet with 17 goals but the Moles have fewer matches to play (three less than the Robins) so whilst not probable don't rule out Ferdinand who is seventh in the list with the six above him all playing for clubs higher in the division.
As well as Gledhill, Thame's Lynton Goss is level with Bohane on 20 goals to sit fourth with Thatcham's Shane Cooper-Clark in fifth and Highworth's Aysa Corrick sixth on 18 goals.
It's likely to be one of the two Thame lads or one of Cornell and Bohane so a 50% chance of an East Berkshire golden boot winner.
In Division One East, Woodley United's Charlie Oakley is fourth on the list with 14 goals, Aldermaston's Kai Parton-Edey is sixth with 13 goals and Harry Swabey of Finchampstead sits in seventh place on 12 goals.
Fred Tripp leads the way for leaders Penn & Tyler's Green with 18 goals but the three players above Oakley all play for sides who have less matches remaining than Woodley.
It would be brilliant if both golden boot winners in the Premier Division and Division One East came from East Berks clubs.
Woodley United win Hellenic Division 1 East
Again with five sides covered by us in the division (Aldermaston, Finchampstead, Sandhurst Town, Woodley and Wokingham & Emmbrook) this would have been more generic written in the summer.
As it is, Woodley are currently second and have a good chance of being crowned champions in April.
Nine points behind leaders and reigning champions Penn & Tylers, United have three games in hand but suffered a blow losing 1-0 to P&T on New Year's Eve.
Headington Amateur also have the games in hand so if both Woodley and Amateurs win their extra matches they would join P&T on 39 points.
United have to play Headington whilst Amateurs and P&T have to play each other twice including a match on the final day of the season so it's advantage Woodley we think fixtures wise.
Penn & Tylers do have the experience of winning the title last year and have the points on the board so are rightly favourites but don't rule out Woodley.
A 'title race' in the Bracknell Sunday League Premier
FC Fernhill's season and a bit long unbeaten run in the Premier Division was ended by Bracknell Cavaliers before the Christmas break – there's a real chance the champions four season long reign at the top of the Sunday tree could be under threat.
Cavaliers beat the champs 4-2 at Bracknell Sport Centre in the middle of December and sit top of the division with a record of 7 wins, 1 draw and 1 defeat in their 9 league games so far.
Due to cup considerations – continuing in to the New Year thanks to the County Cup – Fernhill have only played six games so far – with 4 wins, 1 draw and 1 defeat and will undoubtedly come back strong after the break – but it'd be great to see a competitive finish to the season similar to the 2014/15 campaign when Fernhill finished top with an identical record to Finchampstead Athletic Sunday, but clinched the title on goal difference (+48 to Finch's +34).
There are of course others in the race, with Finch again likely to challenge along with Morale Madrid, Golden Farmer Rangers and FC Meta – though it is worth noting, even though Fernhill have 'only' played 6 league games they already have the divisions best goal difference.