Binfield manager Roger Herridge was on good form recently in an interview for Peter Ray's Mowdog blog, answering questions about his playing and managerial career so far.
It's a terrific interview which you can read in full here and one of the questions asked Roger to put together a 'Herridge Select' eleven from players he's managed throughout his career.
Peter has kindly allowed us to reproduce the team in full, which we've done for you:
Roger starts by saying: "I am bound to upset somebody here by leaving them out but here goes: I am a manager and I make tough decisions! I will keep it simple: 4-4-2…
Goalkeeper- Dan Weait (currently at Flackwell Heath): just a top top 'keeper, kicks well, good shot stopper, great hands. I don't even think he really loves the game for if he did he would be playing two or three levels higher.
Right-back- Jack Broome: been with me at both Wokingham and now Binfield. Mr Versatile really, as he can do a job in a number of positions but he is technically good, strong and can put a ball in a channel when needed.
Centre-back- David Woozley (retired): everything about him was just class, as you would expect from someone who was a professional at clubs such as Crystal Palace, Torquay and Crawley. Calm and composed on the ball, unbeatable in the air. Wooze was a leader that both the young and old learned from when he played in the Binfield side.
Centre-back- James Rusby (Hungerford Town): technically top-drawer, Rus can play anywhere across the back four or in the centre of the park. An elegant footballer with a great ability on the ball. Has a decent long throw on him too. Has had some bad injuries over the years but always comes back better, fitter and stronger.
Left-back- Alex Luis: played in both my Wokingham Allied & First teams before joining me at Binfield. Technically good & probably the best I have seen defend in one-on-one situations.
Right midfield- Josh Howell (now at Thatcham Town): a young man who came through our Youth section at Binfield and broke into the first team whilst still playing in the Allied Counties side. He has great feet, good pace and is capable of scoring great goals from distance. Had a serious injury last season but is raring to go this term. Has the potential to play much higher.
Centre midfield- David Bellis (now at Alvechurch): it broke my heart when he moved to the Midlands; he was the first name on the team sheet when I was Wokingham manager at both Allied and first team level. A great engine on him, the most consistent player I have ever managed. Nothing flash about him, he just does all the right things on the football pitch. Good positional sense and perfect protection sitting in front of any defence.
Centre midfield- Carl Withers (Bracknell Town): an absolute Rolls Royce of a footballer, one who seems to get better with age. Inherited him when I took charge at Binfield; I knew he was good but didn't realise how good until I took over. He never let me down on the football pitch, he possesses a great passing range and a decent shot too.
Left midfield- Seb Bowerman (Bracknell Town): another who broke into the Binfield 1st team whilst still playing Youth football. Mesmerising to watch at times and a good carrier of the ball with the ability to beat players on either side. A regular goal scorer too, he will, like Josh, only get better with age.
Striker- Liam Ferdinand: A young forward with great potential, who has been our leading goalscorer for the last two seasons at Binfield. Can play as a number 9 or 10 and works tirelessly for his team-mates.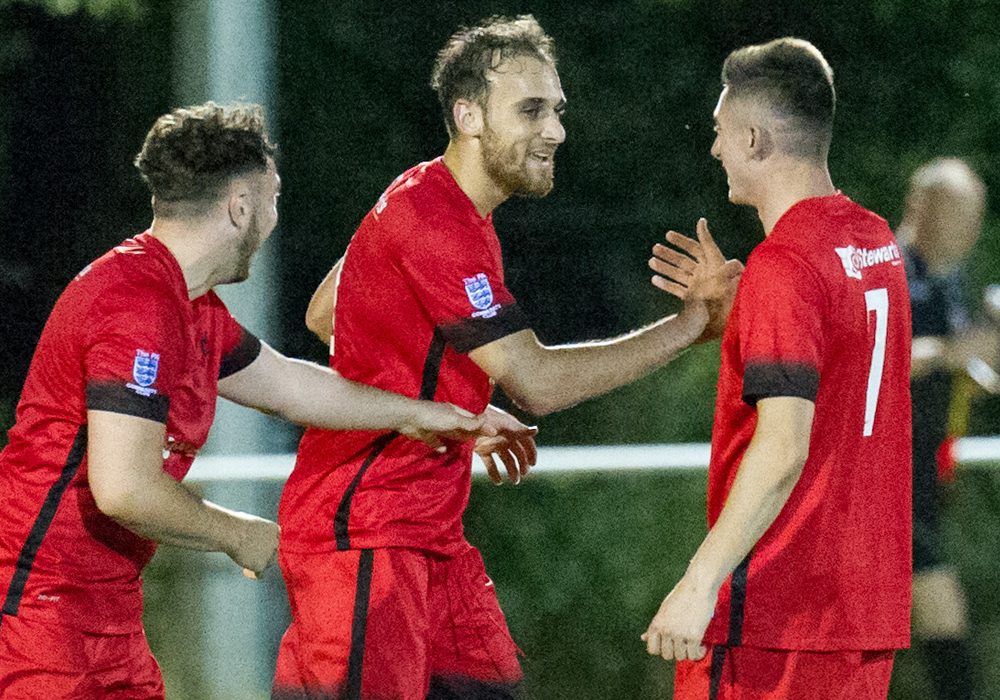 Striker- Adam Cornell (Bracknell Town): a great finisher, rarely wasteful in front of goal. An intelligent forward who makes great runs and links play so well. Adam played for me for a while whilst I was at Wokingham & scored one of the best goals I have ever seen in a Cup Final at the Madejski.
On the bench:
Shane Cooper Clark (Thatcham Town): striker. A natural goalscorer with two good feet. Like Cornell he links play and holds the ball up well. Probably the best finisher I have managed, lethal in the penalty box and from dead ball situations. Not the quickest but with his football brain you don't need to be…
Jemel Johnson (Thatcham Town): strength, power, pace- JJ has it all. He is a threat wherever he plays, either out wide or as a 9 where he gets teams stretched. Doesn't score as many goals as he should but it's his work rate that creates the opportunities for his team-mates.
Jeff Brown: a two-footed centre-back: a proper defender, who heads it, kicks it and above all, loves to defend. Came into our side at Binfield in the mid-part of last season after not playing for 18 months. His experience of playing at higher levels was invaluable to us and helped us come through a sticky patch.
Harrison Bayley: I think I shocked a few when I signed him for Binfield, including myself! A former Youth team player at Reading FC and one who played professionally in Cyprus. Strong and tidy on the ball, rarely gives possession away and one that leads from the front on the pitch.
Josh Pearson: the most technically gifted player I have ever had the pleasure to manage. On his day unplayable with a left foot that can only be described as a wand. Sadly not playing anywhere currently after losing his desire to play the game. At 25 years of age I hope he regains that and goes on to fulfil his potential.
Note: no sub' goalie as Broomey is decent between the sticks!
One other quote we thought worth reproducing was this during Roger's playing career. "Things weren't going well for the [Wokingham] first team at the time, I walked into the dressing room and counted how many other players were in there and got to 10, so worked out I would be starting. I slotted in at left back (I was the most right-sided player you would ever meet) and went on to play a blinder… Well I thought I did but we lost 7-0 and the headlines in the Wokingham Times newspaper during the following week included, "Things have got so bad for Wokingham that even veteran reserve team manager Roger Herridge got 90 minutes…" It was time to hang the boots up…"