When Bracknell Town host Holmer Green in the Berks & Bucks Senior Trophy on Tuesday evening at Bottom Meadow it will be a replay of the 2015/16 first round tie that the visitors won 4-0.
Bracknell of course avoided relegation last season after a storming end to the season, and manager Mark Tallentire has pushed the Robins on this time around with a shot at the Uhlsport Hellenic Premier League title a real aim despite the set back at the weekend against Tuffley Rovers.
You would expect the Bracknell manager to give several squad players a run out in the game this evening though Tallentire's side are without a game at the weekend ahead of the clash with promotion chasing Thame United on Tuesday night.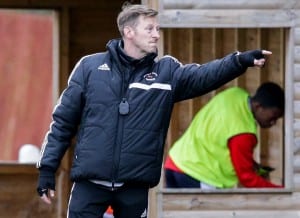 Bracknell should have Chris Grace and captain Carl Davies available following their one match suspensions.
Read more: Callum Whitty to feature on SoccerAM – reports
The Green
Holmer made the national media at the end of last month for all the wrong reasons after the referee for their match at home to Edgware Town abandoned the game after 13 minutes due to consistent abuse from an Edgware fan.
The Guardian reported: "There was widespread surprise when Simon Higgins, the official in charge of the Spartan South Midland Premier League match, called it off after confronting an Edgware supporter who had disagreed with several of his decisions. After the supporter refused to leave, Higgins eventually decided that he could not continue, left the pitch and later apologised to an Edgware official before leaving the ground."
A run of four games without a win in October has given way to four games without defeat including a 1-0 win over Highmoor-IBIS on 22nd October in the FA Vase.
Heading to Bracknell's temporary Bottom Meadow ground at Sandhurst? Here's all you need to know. And for all the latest Bracknell Town news make sure you follow our brand new BTFC twitter account.
Main image: Chris Grace climbs highest by Neil Graham.
Here's the Binfield County Cup report and pics for your perusal: