It looks like the Bracknell Town & District Senior Cup Final win for Sunningdale & Wentworth was a last hurrah. The club have reported via their facebook site that they are due to fold.
We understand player numbers is the issue for the side who beat Binfield CA in May to lift the trophy – an eight piece of silverware for manager Alan Matthias in three years.
The news was seemingly confirmed by goalkeeper Lee Barefoot on his facebook page which we have reproduced with permission: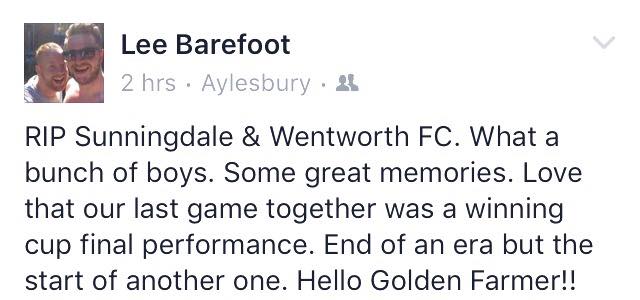 Sunningdale finished third behind champions FC Fernhill and enjoyed a night on the pitch at Bracknell Town's Larges Lane ground after winning the cup final.
The club were due to compete again in the Premier Division of the long running Sunday League but it looks like they will go the way of another well established Bracknell club, the Manics in disappearing from the Sunday scene.
We'll update this story with news as we hear it..