The bizarre scheduling of the WSL1 season makes it hard to keep track of the epic adventures of Reading FC Women – and potentially just as hard to write interesting and varied match previews!
Now is an ideal time to reflect on this tantalising conundrum given that the last match preview I did was for Royals vs Manchester City and as you will have guessed from the title, this preview is also for the Royals vs Manchester City – the only major difference being 3 weeks and 175 miles as the next game is up in sunny Manchester.
So what has happened since the last City game? For a start there have been two mid-season friendlies, with Reading successful in both with a 5-1 win against Portsmouth followed by a 5-0 win against Bristol City. So this time around Reading are going into the game on the back of two high-scoring victories, which can only be a good thing.
Watch: Toni Duggan stunner beats Reading FC Women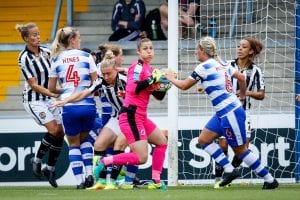 A few Royals have also been involved in international duties. Helen Ward (pictured above) captained the Welsh, with Melissa Fletcher, Kylie Davies and Rachel Rowe also featuring. In addition, Sophie Perry played for the Irish and Lauren Bruton and Mary Earps went away with the England Next Generation squad, so the squad have certainly kept themselves busy and in match form.
Aside from the 3 things I said you could expect from the last Reading v City match which are all still valid, here are 3 more things you can expect this time around.
A few team changes
When we last faced City we saw a few changes due to injury which resulted in midfielders playing in all 11 positions (minor exaggeration acknowledged).
Assuming a fully fit squad, I've a feeling that we will see a few more changes, especially with Helen Ward having hit a hat trick in the friendly against Portsmouth. Kylie Davies is likely to return to centre back after missing the last game and it will be interesting to see which combination of Lois Roche, Kayleigh Hines, Rachel Rowe, Lauren Bruton and Remi Allen will start in the middle of the pitch.
A purpose build Manchester City stadium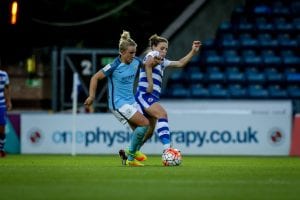 You've got to give City full credit for the support they give their women's team. With regular joint branding, joint kit launches and a purpose built stadium for the team to play at it's a pretty impressive set up. This Sunday they are even offering free entry to the game for everyone attending the men's match on the same day, so expect a packed stadium and another great atmosphere.
Battle of the wide players
Both sides are known for the quality of their wide players both on the wings and at full back. Emma Follis had some good success in the previous City match and one of her excellent runs led to a trip from Nikita Parris and resulting penalty.
Becky Jane at right back also had an excellent game last time around and will need to be at her best again on Sunday. Sophie Perry has looked good at left back since joining us recently and between Melissa Fletcher and Helen Ward there's plenty of quality on the remaining wing to choose from.
For City, Lucy Bronze is one of the WSL1's stand out players going forwards down the right and Jill Scott is generally excellent in all areas, not least her ridiculous ball control skills! With Nikita Parris instrumental in City's 2-1 victory over us and Demi Stokes a top quality left back there will be a shed load of talent lurking near the touchlines on Sunday!
It all kicks off up in Manchester on Sunday at 12:15 at The Academy and is set to be Reading's toughest test of the season.
All images: Neil Graham.