Considering the WSL1 only consists of 9 teams this year, the fixture compilers have cleverly managed to stretch the season out over a period of time that has felt like 17 years. It has stopped and started more times than rain in a British summertime and had more mid season breaks than the entire collection of CSI.
But it's now finally over. And what better way to send us all off into the end of season break than with a pretty dismal defeat to relegated Donny Belles! The same Donny Belles that came into the match with a truly horrific goal difference of minus 41 and having scored just 7 goals in 15 matches. It's been a generally positive season on the pitch but this was a funny old way to finish it off!
Before we start though, what kind of things do football fans expect from the season finale?
1. Lots of effort
2. Some goals
3. A win
4. Some kind of thanks / lap of appreciation etc
Let's see how we got on with those…
The evening started in fairly ropey fashion with a 30+ minute queue for the one food / drink kiosk they had decided to open. For some reason Adam's Park seems completely unable to cope with a crowd of just over 800 people with staff running around the stadium trying to find some burger buns to defrost as if they really hadn't been expecting a football match to be taking place at all!
With people looking on from the food queue, the awards were given out for some of the players who had performed well this season. First up was Becky Jane who won fans' player of the season by quite a margin. Then came Lauren Bruton who picked up players' player of the season. Finally was the not unexpected award to Mary Earps for the overall club player of the season. All very well deserved for probably the 3 most consistent players this season.
On a pretty chilly and gloomy evening the team line up was the same as that which fought well against Chelsea last week, aside from Molly Bartrip who missed out through injury and was replaced by Kayleigh Hines at centre back.
The first half actually began brightly with both of the best chances probably falling to Emma Follis who put wide when through on goal for the first and had a goal ruled out for a combination of handball and offside for the second one. Donny themselves threatened a few times with some crosses and a bit of interplay but didn't really look like having enough quality to trouble the scorers aside from one long range effort that Earps did really well to tip over.
'Not a classic'
At half time it hadn't been a classic but Reading had probably edged it and would surely go on to get a hat full in the second half. As the player sponsors were awarded their player shirts on the pitch at half time (not that you'd really know because the PA system is completely inaudible!) we joked about how awful it would be if we somehow managed to get beat in the second half.
Unfortunately there wasn't really a punchline to this particular joke, as the second half was dire!
'Unlike in Titanic where you had a bit of Celine Dion in the background to keep you entertained and the occasional glimpse of Kate Winslet's naughty bits, this disaster of a second half had no redeeming features at all'
In terms of a finale to the season it felt a bit like The Titanic. The choir carried on singing for the full 93 minutes whilst the action on the pitch became increasingly more tragic. Instead of chairs being thrown about and water rushing through the galleys we saw misplaced passes being thrown about and Donny midfielders rushing through what had previously been our midfield! Every time a set piece came over it looked likely to end in disaster. At times it resembled a boat full of unhappy strangers slowly sinking and not being quite sure how and where to escape to! Also in homage to Titanic the slight frost on the pitch led to our players slipping over repeatedly throughout the second half which added to the general chaos on display!
But unlike in Titanic where you had a bit of Celine Dion in the background to keep you entertained and the occasional glimpse of Kate Winslet's naughty bits, this disaster of a second half had no redeeming features at all.
Donny put together a few nice moves and could have had 2 or 3 if it weren't for Mary being in fine shot stopping form. However, the inevitable finally happened when Roberts lofted a ball forward and Omarsdottir had ample time and space to control and slide past Earps. Donny had completely deserved their goal and looked nothing like the team that have been repeatedly hammered this season.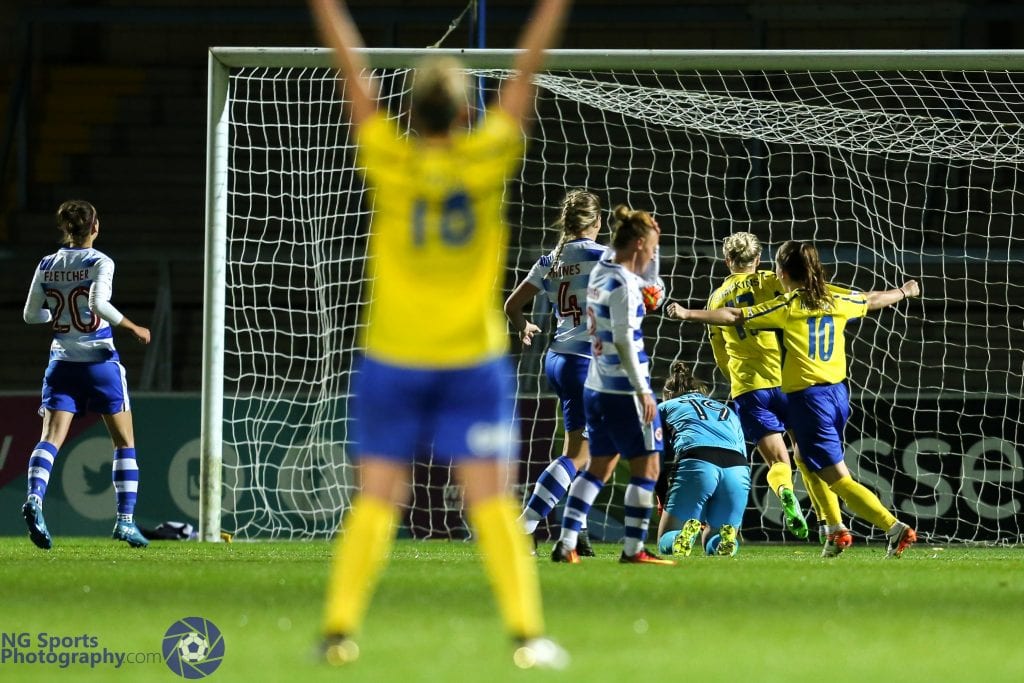 Helen Ward and Charlie Estcourt made brief cameos but by that stage it was a forgone conclusion. Donny just seemed to play as a team and seemed desperate for the win whereas we played like it was the first time we'd met and that the season was already long since over.
As fans we have varying levels of tolerance – I'm generally one to pick out the positives but tonight was the first time that there really weren't many of note in that second half. However, shining lights in the freezing ocean were Mary Earps who had an excellent game in terms of shot stopping (although her distribution wasn't up to her normal standard tonight) and Amber Stobbs who looked dangerous on the ball, even if her crosses generally met a Donny head because a lot of the times we had no one within 10 metres of the box!
It's a shame for any new Reading fans this season that we've only seen 5 goals at home in 8 WSL1 games. It's a great ground with a lovely pitch, but with the style of football at times coupled with the bizarre fixture schedule and complete inability to buy a drink or some chips without missing half of the game it really hasn't taken off this season in quite the way we had all hoped, despite having comfortably secured our opinion flight status.
So, how did we do against our initial season finale checklist? Effort is always top drawer from the players so there was still plenty of that on display – no complaints there. However, a win and goals were both missing unfortunately, which is a big shame because it would have given a fitting end to a pretty successful season.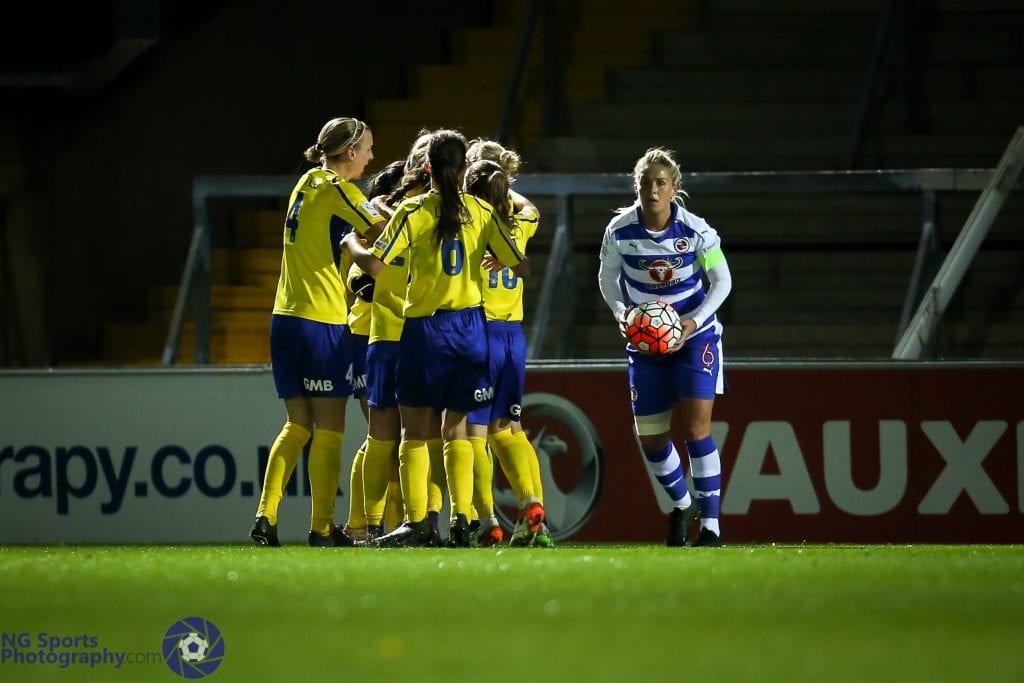 As for the show of appreciation to the fans at the end – it was a strange one to be honest! Due to the bizarre scheduling it didn't really feel like the last game of the season because we've had massive gaps every few weeks. There was no lap of appreciation – as usual the team went off into a post match huddle until most of the fans had left then a few stayed out to sign autographs and have photos taken. To be fair a lap of appreciation would have been a bit strange when only 1 stand is ever open but it just felt like any other game rather than a big send off to the season.
We headed to the bar after the game to warm up a bit and a few of the players thanked us for supporting them this season, which we certainly appreciated. As one of the players mentioned, at times it hasn't been an easy club to support this season, but that's all part of being a football supporter and we'll all be back in February to do it all over again I'm sure.
Looking back at the season there's definitely been some highs and we still have a good connection with quite a few of the players I think. It was always going to be a transitional season where the sole aim was to avoid relegation at all costs – and we've managed that with room to spare so it's definitely been a resounding success from that perspective.
Similarly it was never going to live up to the excitement of last season. Last season was special not just because of the success but because some people within the club were really focused on making the fans and volunteers feel like an integral part of things. Hopefully next season we can get back to that feeling and build on the excellent foundations that were laid last year off the pitch so it once again feels like more than just going to a football match.
Volunteers
Just to end on a positive note, a massive well done to all of the volunteers this season. Whether it's manning the turnstiles for hours on end or dressing up as a female lion or filming the game it is a huge commitment each game and really takes away from actually watching the game. I'm sure they received lots of thanks and appreciation from the club last night but I just wanted to add my own thanks in too because matchdays wouldn't be possible without them.
A final word for the players – they can all be really proud with how they've adapted to WSL1 this season. Some have really pushed on this year and have been a joy to watch at times and everyone has given 100% in every game. I know this match report was a bit negative (although to be fair I do love Titanic!) and some of us fans have been a bit disheartened at times this season but it's absolutely not aimed at any of the players – you're all top, top people and we're proud to support you all and always will be. Hopefully the smiles will be back on everyone's faces come February and we'll all be ready to go again.